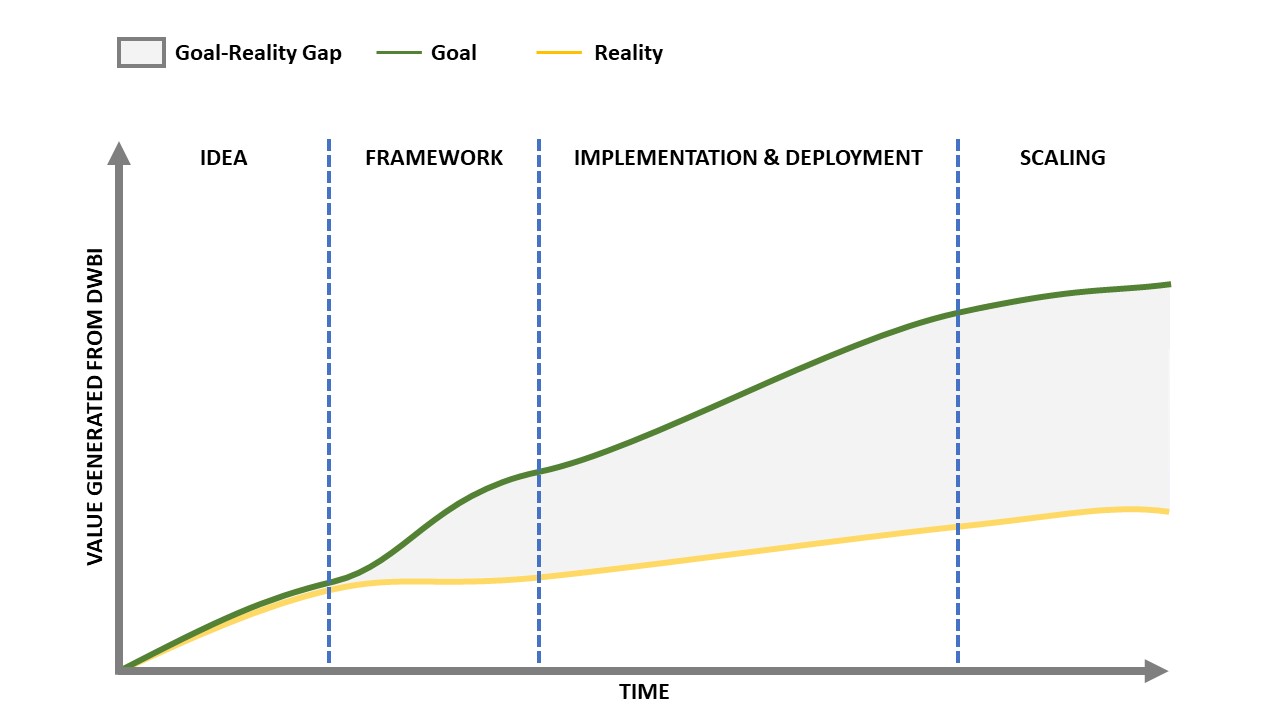 DWBI Roadmap
Research by Garnter has shown that between 70 to 80 percent of business intelligence initiatives fail. These failures can occur due to a combination of many factors, some of which include: 
Poor

conceptualisation




Trying to accomplish too much too quickly

 

Inability to find a solution that fits a given budget restriction

 

Poor scoping/planning

 

Poor implementation

 

Lack of skills to maintain DWBI
We have identified that misalignment in the very early stages of articulating the Data Warehouse and Business Intelligence objectives can lead to significantly bigger misalignments through implementation and scaling.
Bullseye CX can help alleviate many of the hurdles your organisation may face during the process of setting up a reliable, scalable Data warehouse, leading to a successful full-fledged BI implementation.
The Bullseye CX DWBI Roadmap breaks down several barriers to getting you started with your Data Warehousing goals. Using a proven framework, Bullseye CX helps you identify and articulate exactly what you require, in terms of infrastructure, skills, processes and even capital to successfully design and implement a suitable data warehouse that is functional and relevant to your organisation.
With this in mind, Bullseye CX has designed a framework for Data warehousing ideation, which stems from clearly identifying and articulating the true requirements of your organisation, and providing you with a path forward. We remove the guess work involved and create a structured approach to not only identifying and addressing your data warehousing needs, but also how Bullseye CX can partner with you to implement and maintain your data warehouse.
Book a Phone Consultation Today
Learn how Bullseye CX's DWBI Roadmap can benefit your organisation.
White Papers
Read Bullseye CX's latest White Papers encompassing proactive technology implementations in Business Intelligence, CRM and Customer Experience strategies.
Case studies
See how Bullseye CX has helped Clients implement technologies and strategies to unlock new avenues of revenue growth and customer experience delivery.
Bullseye CX Services
Explore Bullseye CX's suite of powerful and fully managed products and services that can help your business grow.